Welcome
Let's enjoy Rocketsu dyeing in Kyoto!!
our studio is the only place in Japan where visitors con experience the entire roketsu dyeing process.
dyeing experience takes 90-120 min.
1-30 people accepted.
by a free design can experience it.
trying traditional Japanese crafts with your own hands will add another unforgettable memory to you stay.
Experience charge (include material,tax)
* Notification of raising the price

square size(45cmx45cm) 3,000 yen
place mat(32cmx45cm) 3,000 yen
tapestry(45cmx90cm) 3,500 yen
japanese towel(35cmx98cm) 3,500 yen
noren(90cmx45cm) 3,500 yen
T-shirt (each size) 3,500 yen
There is other size, too.
What's roketsu?
A traditional staining that rockets dyeing
performs resist style with wax.
picture a design in cloth with a writing brush with the wax which dissolved.
dye the cloth which drew with wax and drop wax and wash in water.
the part which applied wax is dyed white.
repeat this process for the plural dyeing.

It features a unique crack design by crazing of the wax being dyed.
On Sat, and Sun, can experience it on the holiday
Same-day reservations are also possible.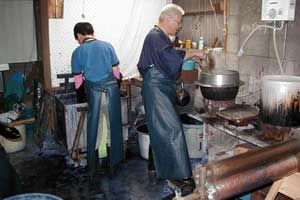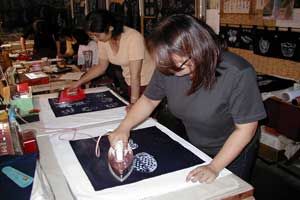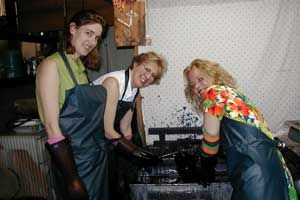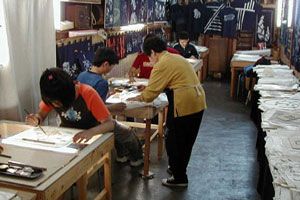 link banne 234x60
Please use it freely.
In our site, a link is free.
Kyoto City Tourism Association
K.C.T.A member
Kyoto Prefecture Tourism Guide
K.P.T.G member


---